Scientific Name:
Bufo woodhousii
Diagnostic Features:
Cranial crests prominent.

Parotoid glands elongate.
Coloration:
Three subspecies in Texas, separated on color patterns that range from yellow-brown or gray to yellow, green-brown, or green.

Belly color may be pale or yellow, with or without dark markings on chest and sides.

Light middorsal stripe present.

Dark dorsal spots with one to several warts.

Males with dark pigmented throats, females with unpigmented throats.
Size:
Adult Bufo woodhousii can range in size from 5-12 cm (2-5 in).
General Distribution:
In North America, the range of Bufo woodhousii is from the East Coast, west as far as Nevada and then south into northern Mexico.
Behavior:
Bufo woodhousii is nocturnal and feeds on insects near light sources. During the day it shelters in burrows or among vegetation.
Reproduction:
Breeding in Bufo woodhousii occurs from March to August. Males call from pools of water.
Habitat:
Bufo woodhousii prefers sandy areas near marshes, river bottoms, desert streams, canyons, irrigated fields, in addition to well-irrigated suburban backyard gardens.
Conservation Status:
Woodhouse's toad is not a protected species in Texas and can be legally collected with a hunting license.
Texas Distribution:
In Texas, Bufo woodhousii is found throughout most of the the state, excluding far eastern Texas and the western half of south Texas.
Distribution Map: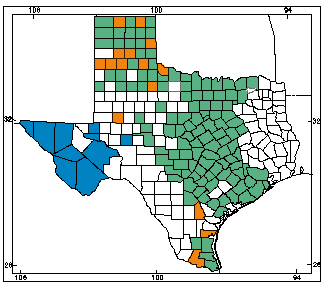 Orange counties indicate new county records since previous Herps of Texas update in 1998; all other colored counties reflect known distribution prior to 1998 for species and/or subspecies. Map is based on museum voucher specimens.