Scientific Name:
Carphophis vermis
Diagnostic Features:
Small pointed head.

Divided anal scale; dorsal scales are smooth, in 13 scale rows at midbody.
Coloration:
Dorsal color is dark purplish, abruptly ending at the third scale row, where the color of the ventral surface, either a pink or salmon color, extends from the belly to create a horizontal black/pink split.

Head is uniformly colored with no dark pigmentation.
Size:
Adult Carphophis vermis reach 19-28 cm (7 1/2-11 in) in length, with a record adult measuring 39 cm (15 3/8 in) in length.
General Distribution:
Only found in the U.S., Carphophis vermis is found from southern Iowa, through Missouri, portions of western Illinois and eastern Kansas and Nebraska, southward through western Arkansas, northwestern Louisiana and northeastern Texas.
Behavior:
Carphophis vermis is a non-venomous snake whose diet consists of earthworms, grubs and other soft-bodied invertebrates. A secretive snake, the western wormsnake will release a foul-smelling, thick mucus from its anal glands when disturbed. It can also press its tail tip into a captor's hand, creating the sensation of a pin-prick and hopefully initiating a quick release by the captor.
Reproduction:
Mating in worm snakes occurs in September and October (perhaps also in the spring), with eggs laid in April or May. Young hatch from egg clutches of 1-8 eggs (average clutch size: 3) about seven weeks later, ranging 7-12 cm (3-4 3/4 in) in length.
Habitat:
Western wormsnakes can be found under stones, damp logs, and other kinds of debris in a variety of habitats, preferring damp forested areas along stream valleys but can also be found in overgrown farms and prairies.
Conservation Status:
The western wormsnake is not a protected species in Texas and can be legally collected with a hunting license.
Texas Distribution:
Carphophis vermis is an extremely uncommon snake in Texas, only being found in the counties of Bowie, Red River, and Titus in the northeastern corner of the state.
Distribution Map: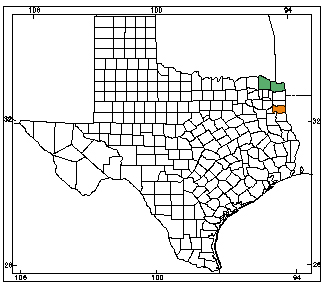 Orange counties indicate new county records since previous Herps of Texas update in 1998; all other colored counties reflect known distribution prior to 1998 for species and/or subspecies. Map is based on museum voucher specimens.