Scientific Name:
Leptotyphlops humilis
Diagnostic Features:
Vestigial eyes present as two dark spots on either side of head.

Spine at tail tip.

Only single scale on top of head between ocular scales.

14 rows of smooth scales around body; all scales (belly and dorsal) similar size.
Coloration:
Dull to shiny pink below 5th to 7th dorsal scale row; brown to purplish above 5th/7th scale row.
Size:
Adult Leptotyphlops humilis average 18-25.5 cm (7-10 in); record size is 36 cm (13 in).
General Distribution:
In the United States, Leptotyphlops humilis is found in the deserts from California and Utah to Texas in the United States, and is widespread across Baja California and the western half of mainland Mexico.
Behavior:
Nocturnal, the Trans-Pecos threadsnake is infrequently found above ground. This species prefers burrow underground in search of its prey. Threadsnakes feed on a variety of invertebrates, ranging from termites and ants (both adults and larvae) to spiders and millipedes.
Reproduction:
Females lay clutches of eggs (2-6) in the late summer. Incubation is 45-60 days and hatchlings measure 7.5-9 cm (3-3.5 in) in length.
Habitat:
The Trans-Pecos threadsnake is found in deserts and desert-grasslands, often seeking refuge under rocks and logs where moisture is retained.
Conservation Status:
The Trans-Pecos threadsnake is not a protected species in Texas and can be legally collected with a hunting license.
Texas Distribution:
In Texas, the only subspecies of Leptotyphlops humilis found in the state, L. h. segregus, is present in west Texas along the Rio Grande from El Paso County to Val Verde and Kinney Counties.
Distribution Map: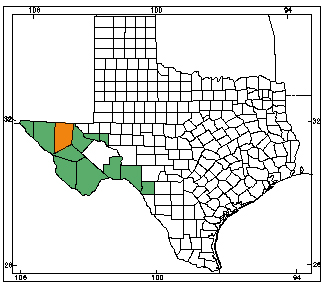 Orange counties indicate new county records since previous Herps of Texas update in 1998; all other colored counties reflect known distribution prior to 1998 for species and/or subspecies. Map is based on museum voucher specimens.