Scientific Name:
Plethodon albagula
Diagnostic Features:
Large, protruding eyes.

Costal grooves 15-17.

Tail length roughly 50% total body length.
Coloration:
Dorsal ground color black.

White or brassy flecks found across dorsal and lateral surfaces.

White throat.

Ventral surface may be gray and speckled with pigment, but considerably lighter than dorsal surface.
Size:
Plethodon albagula can grow to total lengths, including tail, of 12-17 cm (4.5-6.5 in).
General Distribution:
In North America, Plethodon albagula is restricted to isolated populations in Texas, Oklahoma, Arkansas, and Missouri.
Behavior:
Plethodon albagula is particulary active during the cooler months of the year, coincident with recent rainfall. Slimy salamanders may be active during other times of the year, but their activity is underground during drier times of the year. When active, this species can be collected under rocks, logs, or within leaf litter where this salamander hunts for a variety of invertebrate prey (ants, beetles, and sowbugs).
Reproduction:
Females lay a cluster of eggs, generally suspending them from the roof of a natural underground cavity or crevice. Brooding occurs in this species. Egg laying may be in late summer or early fall.
Habitat:
Plethodon albagula in Texas are found in wooded ravines and canyons in limestone-fissured habitats.
Conservation Status:
The western slimy salamander is not a protected species in Texas and can be legally collected with a hunting license.
Texas Distribution:
In Texas, Plethodon albagula is found in three isolated populations across the wetter eastern half of the state, with the largest of these populations centered on the eastern half of the Edwards Plateau.
Distribution Map: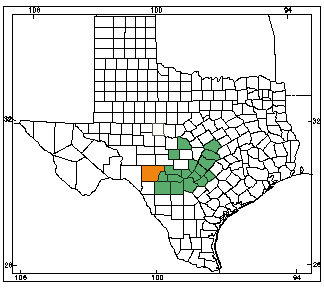 Orange counties indicate new county records since previous Herps of Texas update in 1998; all other colored counties reflect known distribution prior to 1998 for species and/or subspecies. Map is based on museum voucher specimens.