Scientific Name:
Crotalus atrox
Diagnostic Features:
Undivided anal scale.
Dorsal scales extremely keeled, often in rows of 25 to 27 near midbody.
Coloration:
Background coloration of tan or brown surrounds series of diamond-shaped blotches.

Dorsal coloration varies tremendously over its distributional range, though typically shades of tan or brown.

Tail is black and white banded (sometimes called "coontail" across its range).

Ventral surface is off-white and usually unmarked.
Size:
Adults typically measure between 0.91-1.21 m (3-4 ft) - this is the longest rattlesnake in Texas with the record length over 213 cm (84 in).
General Distribution:
In the United States, Crotalus atrox is found in California, Arizona, New Mexico, Oklahoma and Texas. The western diamond-backed rattlesnake also has an extensive range in the northern half of Mexico.
Behavior:
All rattlesnakes are venomous, and therefore potentially dangerous if approached or handled. Rattlesnakes are not generally aggressive and will most likely flee if given a chance to retreat. The western diamond-backed rattlesnake is primarily a nocturnal animal, hunting for its prey on warm summer nights. It is, however, seasonally diurnal, moving between hunting sites during the day during the cooler spring and fall months. The western diamond-backed rattlesnake is usually inactive between late October and early March, though an occasional rattlesnake may be seen sunning itself on warm winter days.
Reproduction:
Mating occurs in the spring and the females give birth (they are viviparous) to as many as 25 young, which may be as long as 30 cm (12 in) in length. The young are fully capable of delivering a venomous bite hours after their birth.
Habitat:
Found from the flatlands and prairies to the rocky hills and low mountains, the western diamond-backed rattlesnake is a key participant in the food web; it is an important predator of many small rodents, rabbits, and birds. The western diamond-backed rattlesnake is in turn preyed upon by a variety of larger mammals and birds, such as coyotes, foxes, and hawks.
Conservation Status:
The western diamond-backed rattlesnake is not a protected species in Texas and can be legally collected with a hunting license.
Texas Distribution:
In Texas, Crotalus atrox is found throughout the state, save the wettest eastern portions of the state. Its relative, the eastern diamond-backed rattlesnake (Crotalus adamanteus), is found in eastern Louisiana and ranges from there through Florida to North Carolina.
Distribution Map: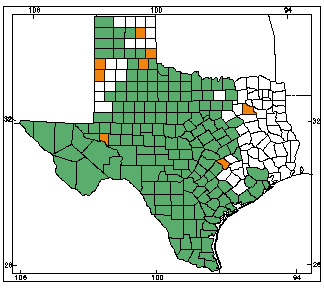 Orange counties indicate new county records since previous Herps of Texas update in 1998; all other colored counties reflect known distribution prior to 1998 for species and/or subspecies. Map is based on museum voucher specimens.