Scientific Name:
Eurycea troglodytes
Diagnostic Features:
Slender body.

Large head with flat forehead.

Reduced eyes partially under surface of skin.

Bright red external gills.

Elongated limbs.

Four toes on front feet, five on hind feet.

Thirteen to seventeen costal grooves.
Coloration:
Light gray or cream colored with translucent skin.

Pale yellow stripes may be present on sides and top of tail.
Size:
Eurycea troglodytes grows to an adult size of 5-7.5 cm (2-3 in) total length.
General Distribution:
Eurycea troglodytes is only found in Texas.
Habitat:
Strictly aquatic, Eurycea troglodytes is found in underground waters within its range.
Conservation Status:
The Valdina Farms Salamander is not a protected species in Texas and can be legally collected with a hunting license.
Texas Distribution:
Eurycea troglodytes is found only in Medina County, Texas.
Distribution Map: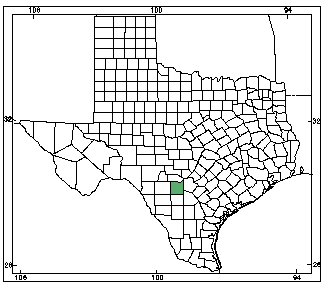 Orange counties indicate new county records since previous Herps of Texas update in 1998; all other colored counties reflect known distribution prior to 1998 for species and/or subspecies. Map is based on museum voucher specimens.