Scientific Name:
Bogertophis subocularis
Diagnostic Features:
Divided anal scale.
Dorsal scales are weakly keeled, in 31-35 rows at midbody.
Coloration:
Background color of light yellow, orange-yellow, or even light olive.

Up to 40 dark brown or black "H" shaped markings along their spine.

Sides of the "H's" may join together along the back, giving an impression of lateral stripes, especially near the head and neck region.

Belly scales are free of pigment and are white to cream colored.

Scales under the tail are usually white or cream as well, though some specimens have faint stripes under the tail.

Head is uniformly colored with no dark pigmentation.
Size:
Trans-Pecos ratsnakes usually reach lengths of 76-140 cm (30-55 in), but occasionally reach sizes exceeding 165 cm (65 in).
General Distribution:
In the United States, Bogertophis subocularis is confined to New Mexico and Texas. They are also found in Mexico, in the state of Chihuahua. Another subspecies, B. s. amplinotus, is found in Durango, Mexico, with intergrades between the two subspecies occuring in Nuevo Leon, Coahuila, and Chihuahua.
Behavior:
Trans-Pecos ratsnakes are non-venomous, killing their prey (small mammals, bats, birds and lizards) by constriction. Only in rare instances will they defend themselves from humans by biting. Their large blue-grey or steel colored eyes suggest nocturnal hunting habits. Trans-Pecos ratsnakes are usually seen at night along road cuts and crossing roads during the hot months of June, July and August in the rocky areas of the Chihuahuan desert. They retreat to limestone crevices and cracks during the day.
Reproduction:
Mating occurs in the spring and early summer with 3-7 eggs being laid shortly thereafter. Hatchlings are 27-36 cm (11-14 in) and have paler markings than the adults.
Habitat:
Trans-Pecos ratsnakes are associated with rocky areas of the Chihuahuan Desert, though they have been recorded from the oak-juniper woodlands of Big Bend and in the Davis Mountains.
Conservation Status:
The Trans-Pecos ratsnake is not a protected species in Texas and can be legally collected with a hunting license.
Texas Distribution:
Bogertophis subocularis is a Chihuahuan desert endemic, being found exclusively in the limestone foothills and mountains of the Trans-Pecos.
Distribution Map: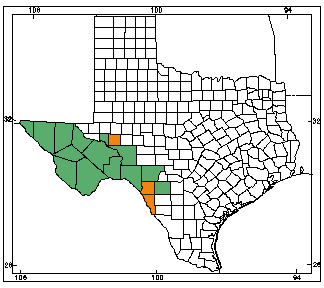 Orange counties indicate new county records since previous Herps of Texas update in 1998; all other colored counties reflect known distribution prior to 1998 for species and/or subspecies. Map is based on museum voucher specimens.