Scientific Name:
Tantilla cucullata
Diagnostic Features:
There are no scalation differences between the two pattern types as both types have fifteen smooth dorsal scale rows at midbody and a divided anal plate.
Coloration:
Tan dorsal surface.
All-white belly is in contrast with the other species of Tantilla found in Texas.
Black cap on top of head.
There are two distinct patterns associated with the black cap in T. cucullata. In both pattern types, the posterior edge of the black cap of T. cucullata extends at least five dorsal scale rows behind the parietal scales, as well extends below the corner of the mouth. In fact, the infralabial scales are generally entirely black.

One pattern type lacks any type of white coloration around the black cap.

Second pattern type consists of a white collar encircling the neck, separating the black cap of the head from the black coloration extending back from the nape of the neck. Also associated with this second pattern type are white spots found below and behind the eye, as well as occasional white spots found ont the snout.
Size:
Tantilla cucullata is one of the largest Tantilla found in the U.S., generally reaching lengths of 20-43 cm (8-17 in).
General Distribution:
Tantilla cucullata has a restricted range, being only found in the U.S. in the state of Texas, specifically in the Big Bend and the eastern portion of the Trans-Pecos near Del Rio. Populations in adjacent areas of Mexico have yet to be described.
Behavior:
Being an infrequently seen snake in Texas, the natural history of Tantilla cucullata is not well known. Many of the handful of individuals collected were captured on summer nights following rainstorms. They are known to consume prey similar to that of the other Tantilla, accepting both centipedes and a variety of insects in captivity. It is a shy animal and considered not to be a threat to humans, though a large T. cucullata would be capable of biting a human.
Reproduction:
Little is known regarding the reproductive biology of these snakes, other than that they are egg layers, with a report of a clutch of three eggs being deposited in June. Nothing is known about the juveniles hatching time or size.
Habitat:
Tantilla cucullata is found in the limestone hills of the Chihuahuan Desert, where the snake is presumed to seek refuge in the many cracks and crevices which affords it protection.
Conservation Status:
In Texas, T. cucullata is listed as threatened by the Texas Parks and Wildlife Department (listed as T. rubra diabola and T. rubra cucullata) and are afforded full protection from collection by the state.
Distribution Map: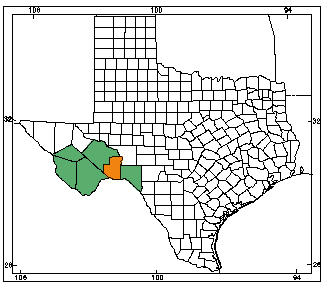 Orange counties indicate new county records since previous Herps of Texas update in 1998; all other colored counties reflect known distribution prior to 1998 for species and/or subspecies. Map is based on museum voucher specimens.