Scientific Name:
Ambystoma tigrinum
Diagnostic Features:
Large salamander with broad flat head and small eyes.

Four toes on front feet, and five on hind feet; hind feet have digging tubercles.

Tail is long and flattened at tip.

Eleven to fourteen costal grooves.
Coloration:
Two subspecies distinguished by pattern of black and yellow bars on dorsal and ventral surfaces.
Size:
As an adult, Ambystoma tigrinum can reach between 33-35 cm (13-14 in) in total length.
General Distribution:
In North America, the range of Ambystoma tigrinum is broken and scattered across the U. S., from the East Coast to Minnesota down to the Gulf Coast, through the Plains States to Nebraska and Texas.
Behavior:
Nocturnal, Ambystoma tigrinum remains underground or under cover near water during the day. Ambystoma tigrinum feeds on earthworms, insects, and small vertebrates. Several may congregate near ponds during breeding times.
Reproduction:
Breeding in Ambystoma tigrinum typically occurs after late winter rains, but may occur anytime with sufficient rain. Eggs are attached to submerged vegetation and rocks singly or in masses.
Habitat:
Ambystoma tigrinum can be found in moist environments or near water, wooded areas with loose soil, in cultivated lands near water, and in mammal or crawfish burrows.
Conservation Status:
The tiger salamander is not a protected species in Texas and can be legally collected with a hunting license.
Texas Distribution:
Both subspecies of Ambystoma tigrinum are found throughout the state, with A. t. tigrinum found in the eastern quarter of the state and A. t. mavortium occupying the rest of the state.
Distribution Map: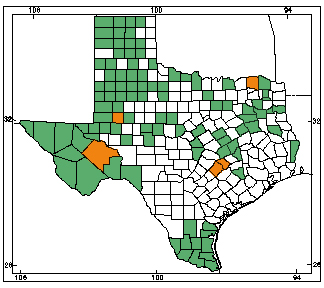 Orange counties indicate new county records since previous Herps of Texas update in 1998; all other colored counties reflect known distribution prior to 1998 for species and/or subspecies. Map is based on museum voucher specimens.