Scientific Name:
Amphiuma tridactylum
Diagnostic Features:
Eel-like salamander with long body and relatively short tail.

Small, lidless eyes.

Four reduced limbs, each with three toes.

External gills in larval stage, single gill slits as adults.

Fifty-seven to 60 costal grooves.
Coloration:
Dark brown with a dark patch on throat.

Gray ventral surface.
Size:
Adult Amphiuma tridactylum can measure between 46-106 cm (18-42 in) in total length.
General Distribution:
In the United States, the range of Amphiuma tridactylum begins from a point in southeast Missouri and spreads southward to the Gulf of Mexico.
Behavior:
Nocturnal and rarely seen out of water, Amphiuma tridactylum feeds on earthworms, crawfish, and small invertebrates and will hibernate in cold weather.
Reproduction:
Breeding in Amphiuma tridactylum occurs from December to June. Internal fertilization occurs. Females lay 150-200 eggs in a strand that then sinks into the mud.
Habitat:
Strictly aquatic, Amphiuma tridactylum can be found in the muddy waters of ponds, ditches, and lakes.
Conservation Status:
The three-toed amphiuma is not a protected species in Texas and can be legally collected with a hunting license.
Texas Distribution:
In Texas, Amphiuma tridactylum is found only in east Texas.
Distribution Map: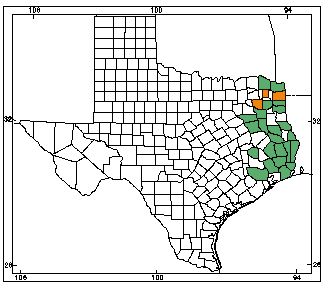 Orange counties indicate new county records since previous Herps of Texas update in 1998; all other colored counties reflect known distribution prior to 1998 for species and/or subspecies. Map is based on museum voucher specimens.