Scientific Name:
Gopherus berlandieri
Diagnostic Features:
Short, high-domed carapace with serrated posterior.

Growth rings present on scutes of both carapace and plastron, giving rough, ridged appearance.

Unhinged plastron with prominent anterior gular projection.

Males with concave posterior plastron; females with flat posterior plastron.

Head wedge-shaped.

Forelegs shovel-shaped and hind legs elephantine; all feet with gray claws.

Thick scales on anterior edge of forelimbs, smooth skin on all other parts of limbs.

Toes not webbed.
Coloration:
Carapace gray to brown, with yellow centered (light-colored) scutes.

Plastron yellowish tan.

Skin gray to yellowish-brown with no blotching or pigment patterns.
Size:
Gopherus berlandieri is the smallest tortoise species in North America. Adult G. berlandieri reach 23 cm (9 in) total length.
General Distribution:
In North America, Gopherus berlandieri is restricted to southern tip of Texas and northern Mexico (Coahuila, Nuevo Leon, Tamaulipas, and San Luis Potosi.
Behavior:
The Texas tortoise may be active year-round in south Texas. Activity in this diurnal species is bimodal during the hot summers, with activity clustered in the first few hours of the morning as well as the last few hours of daylight. The Texas tortoise is herbivorous, preferring to feed on prickly pear cactus (stems, flowers and fruit) but also feeding on grasses and small annual plants.
Reproduction:
Most nesting occurs during June and July, though eggs may be laid as late as September. Only one to three eggs are laid per nest, but females may lay as many as seven eggs during a single year (accounting for multiple nests). Incubation is 85-115 days.
Habitat:
The Texas tortoise is found the scrub and brushlands of south Texas, preferring habitat with sandy, well-draining soils.
Conservation Status:
The Texas tortoise is listed as threatened by the Texas Parks and Wildlife Department and is protected from collection in the state of Texas.
Texas Distribution:
In Texas, Gopherus berlandieri, is found across the southern portion of the state, roughly in a line south of Del Rio - San Antonio.
Distribution Map: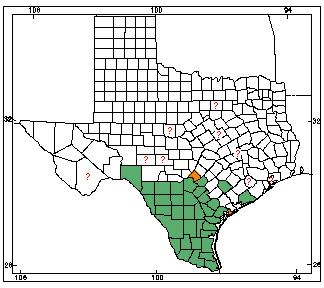 Orange counties indicate new county records since previous Herps of Texas update in 1998; all other colored counties reflect known distribution prior to 1998 for species and/or subspecies. Map is based on museum voucher specimens.