Scientific Name:
Eurycea neotenes
Diagnostic Features:
Slender body with short limbs.

Bright red external gills.

Finned tail.

Four toes on front feet, five on hind feet.

Fifteen to seventeen costal grooves.
Coloration:
Light brown to yellow with brown mottling.

Two rows of lighter flecks on each side of body.

Dark bar from eye to nostril.

Pale cream-colored, translucent ventral surface.
Size:
Eurycea neotenes grows to adult lengths of 5-10 cm (2-4 in) total length.
General Distribution:
Eurycea neotenes is restricted to central Texas.
Behavior:
Eurycea neotenes remains under rocks and among the rock cobbles at the bottom of stream beds.
Habitat:
Strictly aquatic, Eurycea neotenes is found in subterranean streams and creek headwaters.
Conservation Status:
The Texas salamander is not a protected species in Texas and can be legally collected with a hunting license.
Texas Distribution:
Eurycea neotenes is only found along the Balcones Escarpment from Comal County to Val Verde County.
Distribution Map: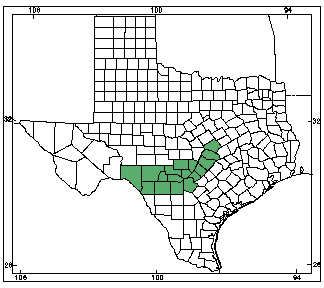 Orange counties indicate new county records since previous Herps of Texas update in 1998; all other colored counties reflect known distribution prior to 1998 for species and/or subspecies. Map is based on museum voucher specimens.