Scientific Name:
Pseudemys texana
Diagnostic Features:
Carapace is oval, flattened, with serrated posterior edge.

Unhinged plastron.

Medial notch on upper jaw with adjacent tooth-like cusps.

Webbed feet.

Males with longer fingernails on forelimbs than females.
Coloration:
Carapace olive with blotches of alternating yellow and black.

2nd costal scute with five or six distinct concentric whorls with dark centers.

Plastron yellow with pigment along seams, fading with age; plastron pigment present along anterior seams in adults.

Skin black with white or yellow stripes present on neck, legs, and tail.

Head markings variable, combination of yellow stripes broken into smaller spots and dashes.

Postorbital stripe and vertical bar behind jaw articulation often present; lateral head stripes curve above vertical bar.

Older individuals (especially males and large females) with mottled shells, limbs, and head and obscured patterns.
Size:
Adult Pseudemys texana reach carapace lengths between 18-25 cm (7-10 in).
General Distribution:
In North America, Pseudemys texana is found exclusively in Texas, from central Texas to the Gulf Coast.
Behavior:
This turtle species is strictly diurnal, spending much of the daylight hours basking on logs and rocks. Food items include a wide variety of invertebrates, including crayfish, snails, and both terrestrial and aquatic insects.
Reproduction:
Nesting in May and June. Females lay clutches of 4-19 eggs.
Habitat:
The Texas river cooter is found in streams as well as lakes and other man-made impoundments.
Conservation Status:
The Texas river cooter is not a protected species in Texas and can be legally collected with a hunting license.
Texas Distribution:
In Texas, the endemic Pseudemys texana is found in the Colorado, Brazos, Guadalupe, and San Antonio River drainages.
Distribution Map: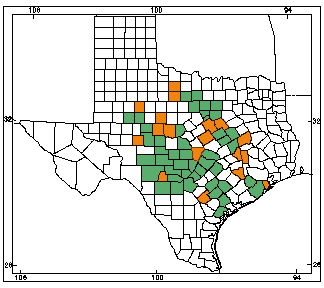 Orange counties indicate new county records since previous Herps of Texas update in 1998; all other colored counties reflect known distribution prior to 1998 for species and/or subspecies. Map is based on museum voucher specimens.