Scientific Name:
Graptemys versa
Diagnostic Features:
Anterior scutes distinctly convex.

Flattened, elliptical carapace with serrated posterior edge and vertebral keel of low spine-like projections.

Plastron unhinged.

Head narrow with no medial notch or hook on upper jaw.

Webbed feet.

Males with longer fingernails on forelimbs than females.
Coloration:
Carapace olive; yellow plastron with pigment along margins.

Light yellow blotch anterior to each vertebral spine.

Yellow reticulations on each carapacial scute, including dorsal marginals.

Horizontal or J-shaped line behind eye; postocular mark may extend backward from trailing edge.

Three to six yellow lines extend up neck to contact orbit.

Olive skin; many dark lines surrounding yellow areas.

Chin may have orange or yellow blotches with dark borders.
Size:
Adult Graptemys versa range in size from 6.5-11 cm (2.5-4.5 in) in males and 9-21.5 cm (3.5-8.5 in) in females.
General Distribution:
In North America, Graptemys versa is restricted to the state of Texas.
Behavior:
Texas map turtles are like other map turtles: diurnal, spending much of their day basking on rocks and logs. This species is likely omnivorous, feeding on both aquatic vegetation and invertebrate prey (insects and mollusks).
Reproduction:
Little is recorded about reproduction in this species. Reproduction is probably similar to G. caglei with multiple clutches possible from May to July.
Habitat:
The Texas map turtle can be found in shallow streams, usually with moderate current.
Conservation Status:
The Texas map turtle is not a protected species in Texas and can be legally collected with a hunting license.
Texas Distribution:
In Texas, the endemic Graptemys versa is found along the Colorado River drainage in the Edwards Plateau region of central Texas.
Distribution Map: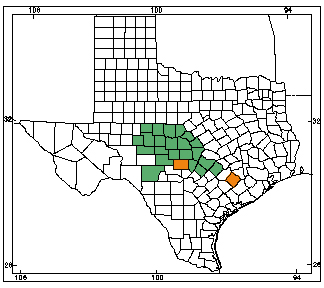 Orange counties indicate new county records since previous Herps of Texas update in 1998; all other colored counties reflect known distribution prior to 1998 for species and/or subspecies. Map is based on museum voucher specimens.