Scientific Name:
Gerrhonotus infernalis
Diagnostic Features:
Stiff lizard with large, platelike scales.

Lateral grooves.

Strong tail, somewhat prehensile.

Small, weak legs.

Yellow eyes with closable eyelids.

External ear openings visible.
Coloration:
Varies from ruddy yellow to reddish brown with dark cross-hatches on dorsal surface.

Head and legs lighter and unmarked.

Pale grey ventral surface.
Size:
Adult Gerrhonotus infernalis can reach a total length of 25-50 cm (10-20 in).
General Distribution:
In North America, Gerrhonotus infernalis has a broad range in a band from the Edwards Plateau region of Texas west and south through Central Mexico.
Behavior:
Gerrhonotus infernalis is a diurnal lizard with slow and calculated movements. Gerrhonotus infernalis feeds on insects, spiders, and small vertebrates. When threatened, it may inflate itself in defense.
Reproduction:
Breeding and reproduction occur throughout the year in Gerrhonotus infernalis. Female egg brooding is exhibited.
Habitat:
Gerrhonotus infernalis can be found on rocky hillsides and wooded canyons.
Conservation Status:
The Texas alligator lizard is not a protected species in Texas and can be legally collected with a hunting license.
Texas Distribution:
In Texas, Gerrhonotus infernalis is found in a band from Central Texas to the Big Bend area.
Distribution Map: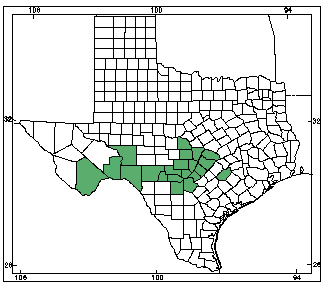 Map is based on museum voucher specimens; last updated 12 November 2014.