Scientific Name:
Masticophis taeniatus
Diagnostic Features:
Smooth scales, in 15 rows at midbody.
Divided anal plate.

Extremely slender and long snakes, with attractive white lateral lines and large eyes.
Coloration:
There are two subspecies which occur in Texas, distinguished on the basis of their dorsal coloration.

Both subspecies have a red or coral coloration on the scales underneath the tail.
Size:
Even though adults may measure 71-182 cm (28-72 in), the head of Masticophis taeniatus is often no bigger around than a person's thumb!
General Distribution:
The two subspecies of Masticophis taeniatus are found from eastern Washington and Oregon, through Utah, Arizona and New Mexico, into Texas and south into northern Mexico.
Behavior:
Masticophis taeniatus is highly excitable, non-venomous species that will quickly strike out at any predator, leaving small gashes in the attacker; these snakes are infrequently captured by humans because of their incredible agility and speed. This speed is crucial for M. taeniatus as it uses it to hunt down quick moving prey such as lizards, snakes, birds, frogs, and small mammals; other times it will lie motionless, waiting to ambush its unsuspecting prey. Masticophis taeniatus is often found in rocky or heavily vegetated habitats offering many avenues of escape and cover.
Reproduction:
Females lay clutches of eggs in the early part of the summer, with clutch size ranging between 3 and 12 eggs. Young emerge from their eggs about 2 months later, measuring 25-35 cm (10-14 in). The young M. taeniatus do not typically have the white patches along the sides of their body, instead having a narrow white crossband behind the head, an overall reddish-rust color, and a couple of longitudinal stripes along the third and fourth scale rows.
Habitat:
A common diurnal snake throughout much of the Trans-Pecos and Edwards Plateau regions, Masticophis taeniatusranging up to 2000-2200 m elevation ( 6500-7000 ft).
Conservation Status:
The striped whipsnake is not a protected species in Texas and can be legally collected with a hunting license.
Texas Distribution:
In Texas, Masticophis taeniatus is found from extreme west Texas, through the Trans-Pecos, to the eastern edges of the Edwards Plateau.
Distribution Map: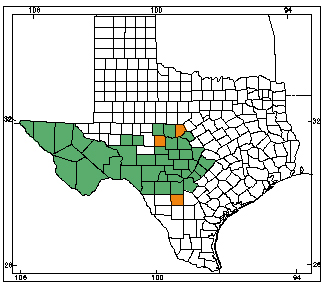 Orange counties indicate new county records since previous Herps of Texas update in 1998; all other colored counties reflect known distribution prior to 1998 for species and/or subspecies. Map is based on museum voucher specimens.