Scientific Name:
Pseudacris streckeri
Diagnostic Features:
Large, stout frog with its toes slightly webbed with disks at tips.
Coloration:
Varies from gray, brown, olive, to green ground color.

Dark stripe through eye as well as a dark spot under the eye.

Dark spots run longitudinally along back.

Deep yellow or orange coloration in groin.
Size:
Pseudacris streckeri reaches an adult length between 2.5-4 cm (1-1.5 in).
General Distribution:
In North America, Pseudacris streckeri is found in a broad band through central and eastern Oklahoma and Texas.
Behavior:
Pseudacris streckeri is nocturnal, feeding on insects. Pseudacris streckeri can burrow into the soil with its front limbs to shelter itself from heat and predation.
Reproduction:
Breeding occurs from November to April or May in Pseudacris streckeri. Eggs are laid in water and attached to vegetation.
Habitat:
Pseudacris streckeri is seen in moist woodland areas, rocky ravines, near streams, in swamps, or in cultivated fields.
Conservation Status:
Strecker's chorus frog is not a protected species in Texas and can be legally collected with a hunting license.
Texas Distribution:
The single subspecies of Pseudacris streckeri in Texas, P. s. streckeri, is found in the eastern half of the state.
Distribution Map: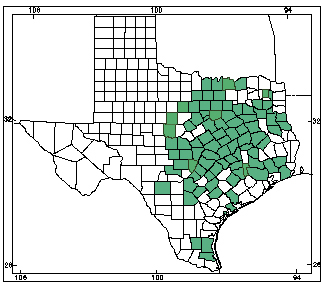 Map is based on museum voucher specimens; last updated 12 November 2014.