Scientific Name:
Sternotherus odoratus
Diagnostic Features:
Carapace with high arch but no vertebral keel (present in juveniles) and no posterior serrated edge.

Vertebral scutes do not overlap.

Plastron small with 11 scutes and a single undistinct hinge.

Pectoral scutes rectangular.

Barbels on chin and neck.

Jaws tan with dark streaks.

Webbed feet.
Coloration:
Carapace brown to black with dark spots in juveniles and unmarked in adults.

Plastron yellow to brown with no dark pigment.

Skin black to gray.

Two prominent light stripes on either side of the head and neck.
Size:
Sternotherus odoratus reaches an adult length of 13.5 cm (5.5 in).
General Distribution:
In the United States, the distribution of Sternotherus odoratus is widespread across the southeastern United States.
Behavior:
Different than the other mud and musk turtles, stinkpots are primarily nocturnal, spending most of the daylight hours inactive on the bottom. Because of their nocturnal habit, they are not frequent baskers; without basking, many turtles, including stinkpots, have large growths of algae and many leeches. Not particularly picky with its diet, the omnivorous stinkpot feeds on insects, earthworms, snails, crabs, fish, tadpoles, algae, and carrion.
Reproduction:
Nesting is April through July. Females lay an average of 4 or 5 eggs, often in communal nests that may contain eggs from three or four other females. Stinkpots can lay up to 4 clutches of eggs per year. Incubation is 65-85 days.
Habitat:
Stinkpots are found in slow moving bodies of water with muddy bottoms: lakes, swamps, rivers, and streams.
Conservation Status:
The stinkpot is not a protected species in Texas and can be legally collected with a hunting license.
Texas Distribution:
In Texas, Sternotherus odoratus is present in the central and east portions of the state.
Distribution Map: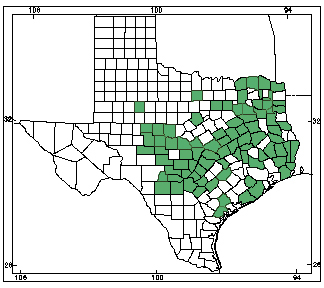 Map is based on museum voucher specimens; last updated 12 November 2014.