Scientific Name:
Hyla squirella
Diagnostic Features:
Relatively small treefrog with smooth skin and large toe pads.
Coloration:
Dorsal coloration can be highly variable.

Additionally, this treefrog has the ability to change colors and patterns.

Sometimes a dark bar is present between the eyes and there may also be light lateral stripes.
Size:
The smallest treefrog in Texas, Hyla squirella only reaches an adult length of 2-4 cm (1-1.5in).
General Distribution:
In North America, Hyla squirella is found in the deep South from Maryland to Texas.
Behavior:
Hyla squirella is nocturnal and aggressively forages for insects in trees and shrubs. In rainy weather, H. squirella can be found during the day, though in dry weather, it seeks shelter during the day.
Reproduction:
Breeding takes place from March to October. Single eggs are laid in shallow pools.
Habitat:
Hyla squirella can be spotted in moist areas, in gardens, and on trees, shrubs, and vines.
Conservation Status:
The squirrel treefrog is not a protected species in Texas and can be legally collected with a hunting license.
Texas Distribution:
In Texas, Hyla squirella is found in the southeast portion of the state from Louisiana to Corpus Christi.
Distribution Map: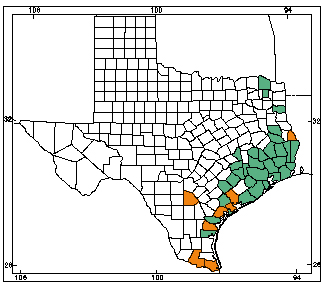 Orange counties indicate new county records since previous Herps of Texas update in 1998; all other colored counties reflect known distribution prior to 1998 for species and/or subspecies. Map is based on museum voucher specimens.