Scientific Name:
Pseudacris crucifer
Diagnostic Features:
Small, slender body with large toe pads and unwebbed toes.
Coloration:
Dorsal color varies from yellow, brown, olive, to gray.

Dark cross on dorsal surface in shape of an 'X'.

Plain ventral surface.

Females are generally lighter in coloration.
Size:
Pseudacris crucifer reaches an adult length between 3-5 cm (1.25-2 in).
General Distribution:
In North America, Pseudacris crucifer is found from the southern parts of eastern Canada, south to the Gulf of Mexico.
Behavior:
Pseudacris crucifer is nocturnal and is rarely seen except during breeding season; P. crucifer hibernates in very cold weather.
Reproduction:
Breeding occurs from November to February, depending on the temperature. Single eggs are laid among underwater vegetation.
Habitat:
Pseudacris crucifer prefers woodland areas and areas of brushy growth near small temporary ponds.
Conservation Status:
The spring peeper is not a protected species in Texas and can be legally collected with a hunting license.
Texas Distribution:
The single subspecies of Pseudacris crucifer found in Texas, P. c. crucifer, is restricted to the eastern quarter of the state.
Distribution Map: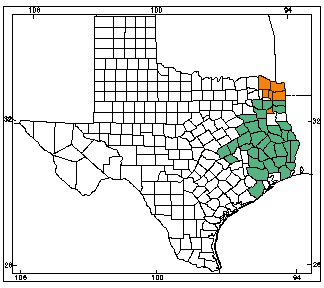 Orange counties indicate new county records since previous Herps of Texas update in 1998; all other colored counties reflect known distribution prior to 1998 for species and/or subspecies. Map is based on museum voucher specimens.