Scientific Name:
Ambystoma maculatum
Diagnostic Features:
Large and stout salamander with a long, broad head.

Tail slightly shorter than body length.

Four toes on forelimbs, and five on hind limbs.

Twelve costal grooves.
Coloration:
Black or slate-colored ground color with orange or yellow spots in irregular rows down each side of body from head to tip of tail

Gray ventral surface.
Size:
As an adult, Ambystoma maculatum can reach a total length of 15-25 cm (6-10 in).
General Distribution:
In North America, Ambystoma maculatum has a broad range from Nova Scotia to south-central Ontario, south to Georgia and Texas.
Behavior:
Ambystoma maculatum is rarely seen above ground. Many individuals can be seen congregating at one pond during breeding time.
Reproduction:
Breeding in Ambystoma maculatum occurs in early spring with warm rains. Internal fertilization occurs and one or more egg mass is laid and attached to submerged vegetation.
Habitat:
Ambystoma maculatum prefers moist environments and may be seen under boards or fallen logs, near permanent and temporary ponds.
Conservation Status:
The spotted salamander is not a protected species in Texas and can be legally collected with a hunting license.
Texas Distribution:
In Texas, Ambystoma maculatum is found in the northern and central parts of east Texas.
Distribution Map: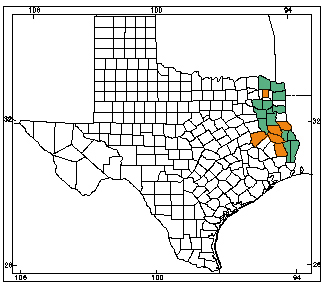 Orange counties indicate new county records since previous Herps of Texas update in 1998; all other colored counties reflect known distribution prior to 1998 for species and/or subspecies. Map is based on museum voucher specimens.