Scientific Name:
Pseudacris clarkii
Diagnostic Features:
Small, slender frog with small, round toe pads.
Coloration:
Pale gray or olive ground color, with scattered bright green spots.
Tan or brown dorsal color.

Spots are outlined in black, and may fuse to form longitudinal stripes.

Green triangle on head between eyes which points posteriorly.

White ventral surface.
Size:
Pseudacris clarkii is a small chorus frog, reaching an adult length at 2-3 cm (0.75-1.25 in).
General Distribution:
In North America, Pseudacris clarkii is found from Nebraska to the southern tip of Texas.
Behavior:
Pseudacris clarkii is nocturnal feeding on small insects. This species is inactive during dry weather.
Reproduction:
Breeding occurs all year in Pseudacris clarkii, but only coincides with rain, and peaks in April or May.
Habitat:
Pseudacris clarkii inhabits moist habitats around grasslands and prairies.
Conservation Status:
The spotted chorus frog is not a protected species in Texas and can be legally collected with a hunting license.
Texas Distribution:
In Texas, Pseudacris clarkii is found in a wide band from north to south Texas, excluding only far east and far west Texas.
Distribution Map: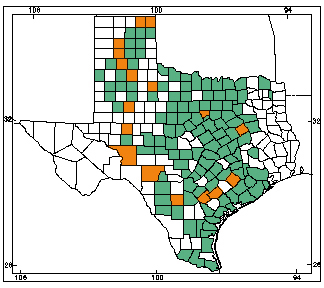 Orange counties indicate new county records since previous Herps of Texas update in 1998; all other colored counties reflect known distribution prior to 1998 for species and/or subspecies. Map is based on museum voucher specimens.