Scientific Name:
Eleutherodactylus guttilatus
Family:
Eleutherodactylidae
Diagnostic Features:
Flat body with large, flattened head.

Smooth skin with dark worm-like pattern on dorsal surface.
Coloration:
Dorsal coloration varies from yellow to brown.

Dark crossbars present on hind limbs.

Dark bar between eyes.
Size:
Eleutherodactylus guttilatus grows to an adult length of 2-3 cm (0.75-1.25 in).
General Distribution:
In North America, Eleutherodactylus guttilatus is found in the Big Bend region of Texas and the adjacent state of Coahuila, Mexico.
Behavior:
Eleutherodactylus guttilatus is nocturnal and remains under cover during the day. This frog tends to walk rather than hop, but can run when disturbed. Eleutherodactylus guttilatus feeds on insects and spiders.
Reproduction:
Breeding in Eleutherodactylus guttilatus occurs from February to May; females lay less than 16 large eggs.
Habitat:
Eleutherodactylus guttilatus prefers canyons, springs, and caves.
Conservation Status:
The spotted chirping frog is not a protected species in Texas and can be legally collected with a hunting license.
Texas Distribution:
In Texas, Eleutherodactylus guttilatus is known from only a handful of localities in Brewster, Jeff Davis, and Presidio Counties.
Distribution Map: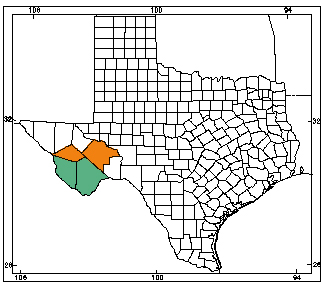 Orange counties indicate new county records since previous Herps of Texas update in 1998; all other colored counties reflect known distribution prior to 1998 for species and/or subspecies. Map is based on museum voucher specimens.