Scientific Name:
Holbrookia lacerata
Diagnostic Features:
Slightly flattened body
Two throat folds (one weak) with no external ear openings.
Coloration:
Round, dark spots on ventral surface of tail.

Breeding females may turn light green on neck and back.

Two subspecies in Texas are distinguished by variations in coloration of dorsal spots.
Size:
Holbrookia lacerata are small lizards, growing to total lengths (including tail) of 11-15 cm (4.5-6 in).
General Distribution:
In North America, Holbrookia lacerata are found in Central and South Texas and adjacent Mexico.
Behavior:
Holbrookia lacerata is a wary diurnal species of lizard, quickly retreating when threatened. They can be conspicuous during the early morning hours when they sun themselves on rocks.
Reproduction:
Eggs are laid in the late spring, and perhaps again in the late summer, with clutch sizes ranging between 6 and 8.
Habitat:
Holbrookia lacerata prefers rocky desert flats, areas with sparse vegetation or mesquite-prickly pear associations, and the uplands of the Edwards Plateau in central Texas.
Conservation Status:
The spot-tailed earless lizard is not a protected species in Texas and can be legally collected with a hunting license.
Texas Distribution:
In Texas, the two subspecies of Holbrookia lacerata that occur in the state are seen from the Edwards Plateau in central Texas into the western part of south Texas.
Distribution Map: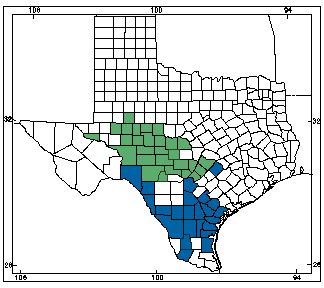 Map is based on museum voucher specimens. Green counties are considered Holbrookia lacerata lacerta and blue counties are considered H. l. subcaudalis.