Scientific Name:
Apalone spinifera
Diagnostic Features:
Carapace leathery, flat, and with small spines along anterior edge; carapace also with small sandpaper-like dorsal projections.

Unhinged plastron.

Tubular snout with nostrils possessing septal ridge.

Webbed feet.

Males with noticeably longer tails than females.
Coloration:
Carapace olive-gray or tan.

Carapace with dark spots or ocelli, with dark marginal line.

Plastron yellow or white.

Skin of head, neck, limbs, and tail olive-gray or brown dorsally and cream to gray ventrally.

Dark spots and streaks on skin.

Two black-bordered light lines on head, one through eye, other through angle of jaw.
Size:
Adult male Apalone spinifera reach carapace lengths of 21.5 cm (8.5 in); adult females can reach lengths of 54.5 cm (22 in).
General Distribution:
In North America, the distribution of Apalone spinifera is widespread across the central and south portions of the United States including much of the Mississippi River drainage and isolated western populations in Arizona, New Mexico and Montana.
Behavior:
A diurnal turtle, the spiny softshell spends much of its time either feeding, basking (floating) at the surface, or buried in soft shallow substrates. The flat shell allows the turtle to bury itself just under the bottom substrate, leaving only its long neck and head exposed. The long neck allows the turtle to breath at the water's surface without having to leave its buried location. This softshell turtle is carnivorous feeding predominantly on insects, fish, and crayfish.
Reproduction:
Nesting takes place May to August, with females capable of laying two egg clutches per season. Clutch size averages 12-18 eggs. Incubation is 70-85 days.
Habitat:
The spiny softshell is at home in rivers, as well as lakes, oxbows, bayous, and man-made impoundments with muddy or soft bottoms.
Conservation Status:
The spiny softshell turtle is not a protected species in Texas and can be legally collected with a hunting license.
Texas Distribution:
There are four subspecies of Apalone spinifera found across the state. Apalone s. emoryi is known from populations along the Rio Grande Valley, Apalone s. hartwegi is found in the northern Panhandle, Apalone s. pallidus occupies the largest distribution in Texas, present across north and east Texas, and Apalone s. guadalupensis is found from central Texas to the Gulf Coast.
Distribution Map: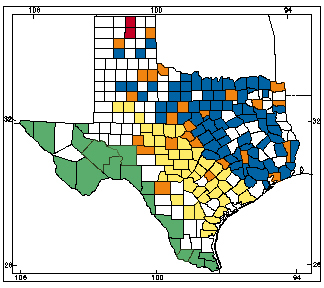 Colored counties reflect known distribution for species and/or subspecies; map is based on museum voucher specimens.