Scientific Name:
Drymobius margaritiferus
Diagnostic Features:
Scales are faintly keeled along several middorsal rows, with 17 scale rows at midbody.

Subcaudal scales and ventral plates bordered in black posteriorly.

Divided anal plate.
Coloration:
Dorsal scales are black-edged with a yellow spot in the center and a blue base creating the appearance of an overall greenish hue.

Ventral surface white to yellow to green.
Size:
Drymobius margaritiferus can reach adult lengths of 75-100 cm (30-40 in).
General Distribution:
In North America, Drymobius margaritiferus is found from extreme South Texas along the Gulf Coast into Mexico and Central America.
Behavior:
Drymobius margaritiferus is a diurnal forager and searches damp areas for prey that primarily consists of frogs and toads. It is a fast moving, nonvenomous snake that can be difficult to catch. If captured or cornered, however, this snake can inflict a bite.
Reproduction:
Eggs, as many as 8, are deposited anytime from mid-spring to late summer. Incubation lasts about 8 weeks and hatchlings are 15 cm (6 in) long and vividly colored.
Habitat:
Found in dense thickets and palm groves with plenty of plant debris, Drymobius margaritiferus is almost always near a water source.
Conservation Status:
The speckled racer is listed as threatened by the Texas Parks and Wildlife Department and is protected in the state of Texas.
Texas Distribution:
The single subspecies of Drymobius margaritiferus present in Texas, D. m. margaritiferus, is found in the extreme southern part of the state.
Distribution Map: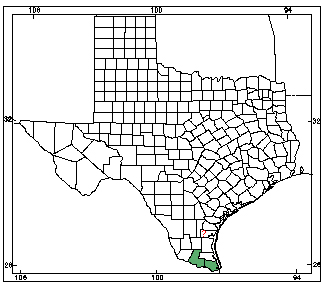 Orange counties indicate new county records since previous Herps of Texas update in 1998; all other colored counties reflect known distribution prior to 1998 for species and/or subspecies. Map is based on museum voucher specimens.