Scientific Name:
Plethodon serratus
Diagnostic Features:
Between 18-21 costal grooves.

Tail comprises 50% of total length.

Four toes on front feet, five on hind feet.
Coloration:
Orange or reddish middorsal stripe runs from head to end of tail.

Middorsal stripe is serrated in western populations, straight-edged in eastern populations.

Dorsal ground color dark brown or black.

Ventral surface mottled black and white (sometimes red).

Also unstriped individuals in some locations (leadback variation).
Size:
Plethodon serratus can grow to 6.5-10.5 cm (2.5-4 in) in total length, including tail.
General Distribution:
In North America, Plethodon serratus is found in four isolated populations across the southeastern U.S., from Louisiana, Arkansas, Oklahoma, Missouri, and Illinois to portions of Georgia, Tennessee, North Carolina and Alabama.
Behavior:
This salamander species is mostly inactive during the summer months, but becomes terrestrial and active during the winter months. During these cooler months, Plethodon serratus can be found active directly under rocks and logs or in leaf litter where it searches for ants, beetles and other invertebrate prey.
Reproduction:
Females lay their eggs in underground burrows in June and July and remain with their eggs to defend them from predators. Eggs hatch in late summer
Habitat:
In its range outside of Texas, Plethodon serratus is found in both wet and dry hardwood forests that contain rocks or logs used as refuges by the salamander.
Conservation Status:
The southern red-backed salamander is not a protected species in Texas and can be legally collected with a hunting license.
Texas Distribution:
In Texas, Plethodon serratus is only known from a specimen collected in Nacogdoches County in 1940; subsequent attempts to find this species have failed to produce any additional specimens.
Distribution Map: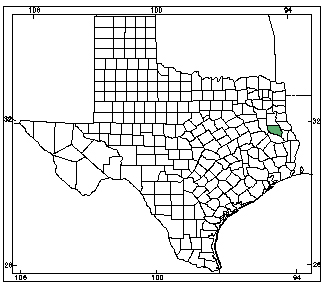 Orange counties indicate new county records since previous Herps of Texas update in 1998; all other colored counties reflect known distribution prior to 1998 for species and/or subspecies. Map is based on museum voucher specimens.