Scientific Name:
Rana sphenocephala
Diagnostic Features:
Smooth skin and long, pointed head.
Coloration:
Dorsal surface is brown or green, or combination of the two.

Dark, round spots on dorsum between light dorsolateral ridges and on sides of body, with the spots outlined by lighter color.

Distinct light spot on tympanum.

Light line on upper jaw.
Size:
Rana sphenocephala reaches an adult size of 5-7 cm (2.3.5 in).
General Distribution:
In North America, Rana sphenocephala is found in the southeastern United States, from as far north as New Jersey south and east to Texas, Oklahoma, and Nebraska.
Behavior:
Nocturnal, Rana sphenocephala hides during the day in vegetation at the edge of the water. Rana sphenocephala avoids predators by entering the water and swimming away underwater where it is well camouflaged in vegetated areas.
Reproduction:
Breeding occurs year-round in Rana sphenocephala with eggs laid in shallow water.
Habitat:
Rana sphenocephala prefers shallow, freshwater habitats, although it can sometimes be seen in brackish waters along the coasts.
Conservation Status:
The southern leopard frog is not a protected species in Texas and can be legally collected with a hunting license.
Texas Distribution:
In Texas, Rana sphenocephala is found in the eastern third of the state.
Distribution Map: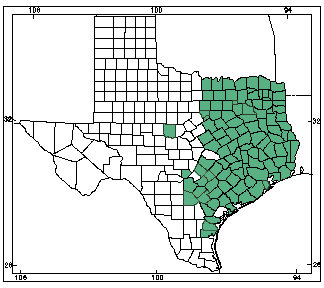 Map is based on museum voucher specimens.