Scientific Name:
Desmognathus auriculatus
Diagnostic Features:
Stocky salamander with a head that narrows toward snout.

Hind limbs larger than forelimbs.

Fourteen costal grooves.

Tail stout at base and laterally compressed at tip.

No internal or external lungs.
Coloration:
Dark brown or black on dorsal and ventral surfaces.

Series of red or white dots in rows along sides between forelimbs and hind limbs.
Size:
Desmognathus auriculatus can reach an adult total length of 7.5-16 cm (3-6.2 in).
General Distribution:
In the United States, Desmognathus auriculatus is found in a continuous band along the East and Gulf Coasts from Virginia to Texas.
Behavior:
Nocturnal, Desmognathus auriculatus remains under the protective cover of debris during the day. When threatened, D. auriculatus may leap great distances to avoid capture. It may also lighten or darken its color to improve camouflage.
Reproduction:
Breeding in Desmognathus auriculatus occurs from September to October. Females lay eggs under moist debris.
Habitat:
Desmognathus auriculatus prefers moist, acidic environments, such as those found in swamps, ponds, and floodplains in wooded areas with decomposing organic material.
Conservation Status:
The southern dusky salamander is not a protected species in Texas and can be legally collected with a hunting license.
Texas Distribution:
In Texas, Desmognathus auriculatus is found in the central and southern portions of east Texas.
Distribution Map: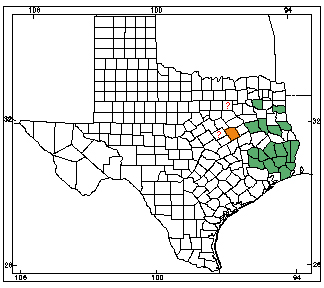 Orange counties indicate new county records since previous Herps of Texas update in 1998; all other colored counties reflect known distribution prior to 1998 for species and/or subspecies. Map is based on museum voucher specimens.