Scientific Name:
Chelydra serpentina
Diagnostic Features:
Carapace with three low keels, more prominent in juvenile turtles becoming smooth as adults. Carapace very serrated posteriorly.

Bridge is small and unhinged plastron is extremely reduced.

Large head with hooked beak, with eyes placed dorsolaterally on head.

Long neck with tubercles.

Tail equivalent length of carapace or longer; tail with three rows of prominent tubercles.

Strong, heavy claws on large legs with webbed feet.
Coloration:
Carapace dark (black to brown); plastron yellowish to tan.

Skin tan, gray, yellow or black.
Size:
Chelydra serpentina grow to adult lengths of 49 cm (19.5 in).
General Distribution:
In North America, Chelydra serpentina is found east of the Rocky Mountains throughout all of the eastern United States as well as adjacent populations in southern Canada.
Behavior:
Frequently found in water as deep as the length of its neck, the snapping turtle often hides in brush or under submerged logs and roots in the water. Common snapping turtles are thought to be most active at night, but individuals can often be seen floating just under the surface of the water. Infrequently they are found out of the water, perhaps moving between bodies of water. An omnivorous species, the common snapper will eat just about anything it can get a hold of and swallow. Fish, birds, snakes, turtles, amphibians, various invertebrates and some plant material. Carrion is not refused.
Reproduction:
Nesting period occupies month-long period between mid-May and mid-June. Average clutch sizes are 20-40. Incubation is 75-95 days.
Habitat:
A habitat generalist, the common snapping turtle can be found in almost any body of fresh water with a muddy bottom, whether the body of water is natural or man-made. Some populations inhabit brackish water.
Conservation Status:
The snapping turtle is not a protected species in Texas and can be legally collected with a hunting license.
Texas Distribution:
The single subspecies of Chelydra serpentina found in Texas, C. s. serpentina, is distributed across much of the state, save the southern and western tips of the state.
Distribution Map: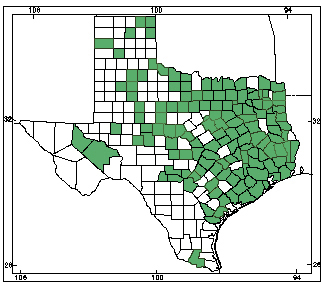 Colored counties reflect known distribution for species and/or subspecies; map is based on museum voucher specimens.