Scientific Name:
Apalone mutica
Diagnostic Features:
Carapace leathery, flat, and smooth, without spines, bumps or small dorsal projections.

Unhinged plastron.

Tubular snout with nostrils lacking septal ridge.

Webbed feet.

Males with noticeably longer tails than females.
Coloration:
Carapace olive-gray or brown.

Carapace of males and juveniles with little mottling of dark pigment; females carapace may be strongly mottled with shades of olive, gray, and brown.

Plastron (without pigment) typically lighter than carapace in juveniles.

Skin of head, neck, limbs, and tail olive-gray or brown dorsally and cream to gray ventrally.

Black-bordered light line extends through the eye, from head to neck.

Dark pigment absent on forelimbs.
Size:
Adult male Apalone mutica reach carapace lengths of 18 cm (7 in); adult females can reach lengths of 35.5 cm (14 in).
General Distribution:
In North America, Apalone mutica is restricted to river drainages feeding into the Mississippi River as well as populations further west in Texas and New Mexico.
Behavior:
The smooth softshell is primarily insectivorous, but vegetation, invertebrates, and small vertebrates (primarily fish) are also important in their diet. A diurnal species, the smooth softshell will bask both above water on the bank, logs, or rocks, or it may bask under water in the shallows near beaches.
Reproduction:
Nesting occurs May through July. Females deposit as many as 33 eggs into the nest (typically 11-22 eggs/clutch) that is located high on a sand bar exposed to full sun. Incubation is 65-80 days.
Habitat:
The smooth softshell is usually found in rivers and streams, particularly those with sandy bottoms, but it can also be found in lakes and man-made impoundments.
Conservation Status:
The smooth softshell turtle is not a protected species in Texas and can be legally collected with a hunting license.
Texas Distribution:
In Texas, the single subspecies of Apalone mutica, A. m. mutica, is known from populations scattered across portions of the Panhandle, central Texas, the Red River Valley, and east Texas.
Distribution Map: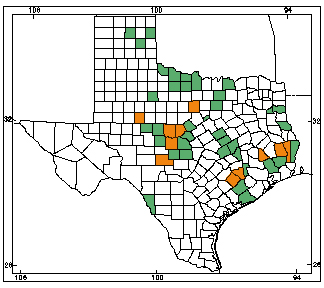 Orange counties indicate new county records since previous Herps of Texas update in 1998; all other colored counties reflect known distribution prior to 1998 for species and/or subspecies. Map is based on museum voucher specimens.