Scientific Name:
Opheodrys vernalis
Diagnostic Features:
Divided anal plate.
Smooth dorsal scales in 15 rows at midbody.
Coloration:
Bright green dorsal surface.

Greenish-yellow or white ventral surface which extends up to the second dorsal scale row.
Size:
Adult Opheodrys vernalis typically measure 30-51 cm (12-20 in) in length; record size is over 38 cm (15 in).
General Distribution:
Opheodrys vernalis is found throughout portions of the northeastern and northcentral parts of the U. S., ranging from Maine and New Hampshire, through the Great Lakes, along with scattered and isolated populations found through many of the central states, as far west as Colorado and New Mexico.
Behavior:
The smooth greensnake is much more of a terrestrial snake than its relative, the rough greensnake, which is much more of a climbing snake. Opheodrys vernalis, a non-venomous species, will climb vegetation in search of food or to escape the midday heat, but is generally found on the ground. Food consists of mainly insects and spiders, but individuals east of Texas have also been recorded eating salamanders, slugs, snails, and even centipedes and millipedes.
Reproduction:
Eggs are laid in the late summer months, clutch sizes between 2-18, and in some northern populations, the young emerge only a few days later because advanced development which had taken place within the eggs before they were laid. Clutches from southern populations incubate longer, with young hatching out during September and October.
Habitat:
Opheodrys vernalis is most often found in meadows or shortgrass prairie habitats, but because of its cryptic coloration, it is generally only seen when it is active in the open.
Conservation Status:
Because of its limited distribution in Texas, Opheodrys vernalis is listed as threatened by the Texas Parks and Wildlife Department and is protected by the state of Texas.
Texas Distribution:
The one subspecies of Opheodrys vernalis found in Texas, O. v. blanchardi, is restricted to one isolated population along the southeast coast near Houston and Victoria; there are only 6 known museum specimens for Opheodrys vernalis in Texas. These Texas populations are over 800 km away from the nearest populations found in either New Mexico or Missouri.
Distribution Map: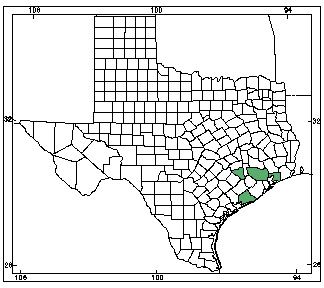 Orange counties indicate new county records since previous Herps of Texas update in 1998; all other colored counties reflect known distribution prior to 1998 for species and/or subspecies. Map is based on museum voucher specimens.