Scientific Name:
Virginia valeriae
Diagnostic Features:
Divided anal plate; smooth dorsal scales (in 17 rows near midbody), though scales near midline may be slightly keeled.

Two small postoculars, a single loreal scale, and a pair of internasals.
Coloration:
Dorsal color typically brown or reddish brown.

Ventral scales are either white or yellow-white.

Some individuals may have a faint light stripe along the length of the middorsal line, whereas others may have thin pigmented lines found in many of the dorsal scales, giving an illusion of having keeled scales.
Size:
A relatively small snake, adult Virginia valeriae measure 17.5-25 cm (7-10 in).
General Distribution:
Virginia valeriae is found in portions of northeast Texas, Oklahoma and Kansas east to the Atlantic Coast from New Jersey to Florida.
Behavior:
Though not a commonly seen snake throughout much of its range, Virginia valeriae can be locally abundant in some populations. It may be much more visible after cool rains, especially in the spring as well as in the early winter prior to its retreat its winter burrows. Though earthworms are thought to be the primary prey for V. valeriae, these snakes are also known to consume snails and insects as part of their diet. To find their prey, smooth earthsnakes will typically search the moist soils under rocks and logs, using their pointed snout to root around in the soil.
Reproduction:
Virginia valeriae is a live-bearing species. Litters of between 5-10 snakes, measuring 6 cm (2.5 in), are typically seen in August and September.
Habitat:
The smooth earthsnake is an infrequently seen snake present in much of the southeastern United States, inhabiting shady and moist woodlands and adjacent bottomlands and floodplains.
Conservation Status:
The smooth earthsnake is not a protected species in Texas and can be legally collected with a hunting license.
Texas Distribution:
The single subspecies of Virginia valeriae present in Texas, V. v. elegans, is found from the Austin and San Antonio areas northeastward towards Tyler and Longview.
Distribution Map: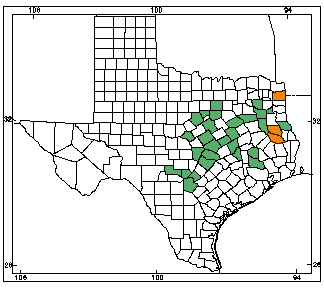 Orange counties indicate new county records since previous Herps of Texas update in 1998; all other colored counties reflect known distribution prior to 1998 for species and/or subspecies. Map is based on museum voucher specimens.