Scientific Name:
Tantilla hobartsmithi
Diagnostic Features:
Smooth scales (in rows of 15 at midbody).
Divided anal plate.
Seven supralabials.
First pair of infralabial scales do not touch each other on the underside of the chin.
Coloration:
Brown or tan dorsal color.

Reddish or pink belly.

Underside of head and throat often grey in color.

Black cap on top of its head that extends only as far back as the first, occasionally second, dorsal scale row behind the parietal scales on the head.

A light colored line usually separates the posterior edge of the cap from the rest of the body.

Posterior edge of the cap is also straight, or slightly convex, and does not extend below the corner of the mouth.
Size:
Adult Tantilla hobartsmithi typically measure 18-23 cm (7-9 in).
General Distribution:
Tantilla hobartsmithi is found in various portions of the southwestern U.S., with discontinous populations found in California, Nevada, Utah, Arizona, New Mexico and Texas. Additional isolated populations are also present in parts of northern Mexico.
Behavior:
Tantilla hobartsmithi consumes many different types of arthropod prey, preferring insect larvae, centipedes and millipedes. Not a danger to humans, T. hobartsmithi can be safely handled.
Reproduction:
An egg layer, Tantilla hobartsmithi lays clutches of as many as three eggs during the month of June. Little is known about the juvenile snakes regarding their hatching dates or sizes.
Habitat:
The Smith's black-headed snake is found in a variety of open habitats, ranging from the desert flatlands to forested mountain sides. It is usually associated with water and is often found when flipping boards, logs or stones, where the moisture is more likely to persist than elsewhere.
Conservation Status:
The Smith's black-headed snake is not a protected species in Texas and can be legally collected with a hunting license.
Texas Distribution:
In Texas, Tantilla hobartsmithi is found in throughout most of the Trans-Pecos region as well as portions of the Edwards Plateau.
Distribution Map: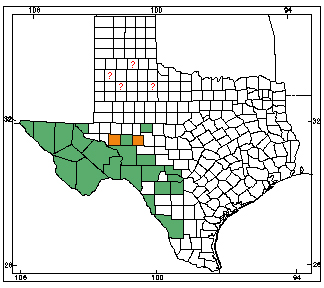 Orange counties indicate new county records since previous Herps of Texas update in 1998; all other colored counties reflect known distribution prior to 1998 for species and/or subspecies. Map is based on museum voucher specimens.