Scientific Name:
Ambystoma texanum
Diagnostic Features:
Small head and mouth with a large body and long tail.

Four toes on front feet, and five on hind feet.

Fourteen or fifteen costal grooves.
Coloration:
Dorsal color black or very dark brown with light-colored flecks on dorsum and sides.
Size:
Adult Ambystoma texanum reach 11-19 cm (4.5-7.6 in) in total length.
General Distribution:
In the United States, Ambystoma texanum is found in the U.S. from the Great Lakes south and east to Texas.
Behavior:
Nocturnal, Ambystoma texanum remains underground or under cover during the day. Several may congregate near ponds during breeding times. If threatened, Ambystoma texanum may wave its tail from side to side.
Reproduction:
Breeding occurs in Ambystoma texanum from January to April. Females lay up to 700 eggs and attach them singly or in small masses to submerged vegetation and rocks.
Habitat:
Preferring moist environments, Ambystoma texanum may be seen in riverbottoms, under debris near ponds and swamps, or on cultivated farmland near water.
Conservation Status:
The small-mouthed salamander is not a protected species in Texas and can be legally collected with a hunting license.
Texas Distribution:
In Texas, Ambystoma texanum is found throughout the wetter portions of the east and east-central sections of the state.
Distribution Map: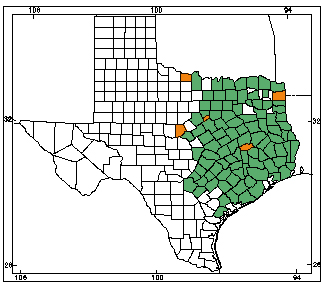 Orange counties indicate new county records since previous Herps of Texas update in 1998; all other colored counties reflect known distribution prior to 1998 for species and/or subspecies. Map is based on museum voucher specimens.