Scientific Name:
Ophisaurus attenuatus
Diagnostic Features:
Legs absent.

Stiff lizard with large, platelike scales.

Lateral grooves.

Long tail, almost 2 1/2 times that of head and body.

Eyes with movable eyelids and visible external ear openings.
Coloration:
Pale yellow with dark middorsal stripe.

Lateral stripes below lateral grooves.
Size:
Ophisaurus attenuatus can grow to an adult size of 55-105 cm (22-42 in).
General Distribution:
In North America, Ophisaurus attenuatus is found across portions of the Midwest, from Illinois and Kansas southward to Texas.
Behavior:
This legless lizard is diurnal and feeds on insects, spiders, and small vertebrates. When threatened, the glass lizard may "shatter" into several pieces, leaving its tail behind. A new tail is grown over a period of a few weeks.
Reproduction:
Breeding and reproduction take place in the spring. Clutches of 8-17 eggs are laid between June and August with the female remaining with the eggs during their 50-60 day incubation.
Habitat:
The slender glass lizard can be seen in dry grasslands, as well as in wooded areas within its range. This species can also be found on many of the coastal barrier islands where it feeds on insects and other arthropods.
Conservation Status:
The slender glass lizard is not a protected species in Texas and can be legally collected with a hunting license.
Texas Distribution:
In Texas, Ophisaurus attenuatus is found in the eastern half of the state.
Distribution Map: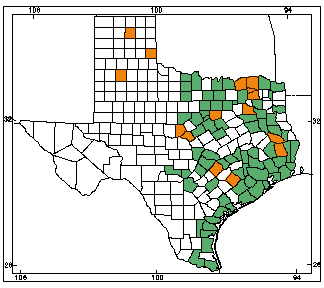 Orange counties indicate new county records since previous Herps of Texas update in 1998; all other colored counties reflect known distribution prior to 1998 for species and/or subspecies. Map is based on museum voucher specimens.