Scientific Name:
Aspidoscelis sexlineata
Diagnostic Features:
Long, strong hind limbs and a comparatively long tail, over twice the head-body length.

Small dorsal scales with enlarged scales on front edge of throat fold only; belly with 8 rows of large, rectangular scales.
Coloration:
The three different subspecies in Texas are differentiated by color and pattern.
All A. sexlineata adults are sexual dimorphic in color: females with light ventral surface and males with pale blue ventral surface.
Male Aspidoscelis sexlineata sexlineata have pale green throats.
Size:
Aspidoscelis sexlineata can reach 15-26 cm (6-10.5 in) in total length as an adult.
General Distribution:
In North America, the range of Aspidoscelis sexlineata covers the Deep South and the Central Plains.
Behavior:
Aspidoscelis sexlineata are diurnal lizards are especially active in the morning. They forage for insects and are wary of being approached. They quickly retreat under vegetation or rocks if approached. They burrow in the soil in cooler temperatures.
Reproduction:
Breeding takes place from April to June. Females lay 1-6 eggs in June or July. A second egg deposition may occur three weeks after the first. The eggs hatch from June to September. Hatchlings with bright blue tail.
Habitat:
Aspidoscelis sexlineata sexlineata prefers open areas with loose soil. It is also seen near wooded areas, on floodplains, and in rocky outcrops.
Aspidoscelis sexlineata viridis is seen in open areas such as on river banks and grassy plains. It may also be seen in hilly terrains.
Conservation Status:
The six-lined racerunner is not a protected species in Texas and can be legally collected with a hunting license.
Texas Distribution:
In Texas, Aspidoscelis sexlineata cover the eastern three-quarters of the state. Aspidoscelis s. sexlineata has the largest range, encompassing most of the state save the Panhandle and west Texas. Aspidoscelis s. viridis is present in the Panhandle; Aspidoscelis sexlineatus stephenseae is restricted to a narrow band in south Texas.
Distribution Map: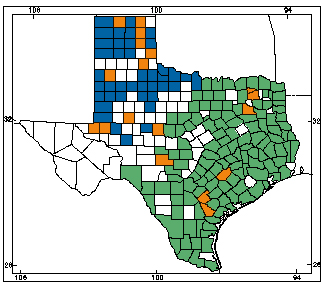 Orange counties indicate new county records since previous Herps of Texas update in 1998; all other colored counties reflect known distribution prior to 1998 for species and/or subspecies. Map is based on museum voucher specimens.