Scientific Name:
Hypopachus variolosus
Diagnostic Features:
Small, oval body with smooth skin.

Small head with pointed snout and fold of skin immediately behind eyes.

Hind feet are slightly webbed and each with two tubercles (Gastrophryne with one).
Coloration:
Dorsal color brown or olive green with a thin yellow middorsal stripe.

Dark spots in mottled pattern may appear on dorsum.

Ventral surface is gray with possible mottling.

Thin white line down length of ventral surface that branches at the forelimbs.

Adult males with dark throat.
Size:
Hypopachus variolosus reaches an adult size between 2.5-4 cm (1-1.5 in).
General Distribution:
In North America, Hypopachus variolosus is found from south Texas to Costa Rica.
Behavior:
Hypopachus variolosus feeds mainly on ants and termites. The sheep frog hides most of the year, but may emerge at night or with heavy rains in late summer.
Reproduction:
Breeding in Hypopachus variolosus takes place from March to September with rain, in Texas typically August and September. Males call while floating in water with their forelimbs resting on a stem or twig.
Habitat:
Hypopachus variolosus frog prefers subterranean burrows, such as those of pack rats. This species also burrows under fallen tree limbs and remains in these burrows for most of the year.
Conservation Status:
The sheep frog is considered a threatened species by the Texas Parks and Wildlife Department and is fully protected by the state.
Texas Distribution:
In Texas, Hypopachus variolosus is known from the eastern half of South Texas, from Bee County south to Cameron, Hidalgo, and Starr counties.
Distribution Map: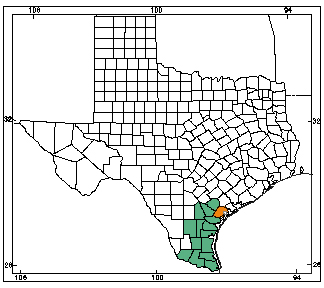 Orange counties indicate new county records since previous Herps of Texas update in 1998; all other colored counties reflect known distribution prior to 1998 for species and/or subspecies. Map is based on museum voucher specimens.