Scientific Name:
Masticophis schotti
Diagnostic Features:
Divided anal plate.
Smooth dorsal scales (in 15 dorsal scale rows at midbody).
Coloration:
Dorsal ground color ranges from blue-gray, olive and greenish-gray.

Belly color is variable, as the chin is generally white, the ventral scales are stippled with blue-gray, and the underside of the tail is red or yellow.

There are two recognized subspecies of M. schotti found in Texas, although one subspecies' (Masticophis schotti ruthveni) limited range in Texas is said to broadly overlap that of the other (M. s. schotti).
Size:
With bodies often not much thicker than a person's index finger, Masticophis schotti adults are typically 101.5-142 cm (40-56 in) in length.
General Distribution:
Masticophis schotti are found in Texas and through many of the northeastern states of Mexico.
Behavior:
Masticophis schotti is a non-venomous diurnal hunter, catching and eating its prey generally without killing it, as it does not constrict their prey. Prey includes mice, small birds, lizards and frogs, though young snakes are thought to consume insects. Active from March to late September, these snakes do not make good pets as their nervous habits are not well suited for captivity.
Reproduction:
Female snakes lay 3-12 eggs during May and June, with the young emerging from their eggs in August.
Habitat:
Habitats frequented by Masticophis schotti include brushy thornscrub and mesquite lowlands to river valleys and the Gulf coastal plain.
Conservation Status:
Schott's whipsnake is not a protected species in Texas and can be legally collected with a hunting license.
Texas Distribution:
In Texas, Masticophis schotti are found throughout south Texas, south of the Edwards Plateau.
Distribution Map: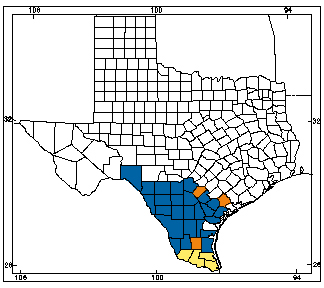 Orange counties indicate new county records since previous Herps of Texas update in 1998; all other colored counties reflect known distribution prior to 1998 for species and/or subspecies. Map is based on museum voucher specimens.