Scientific Name:
Cemophora coccinea
Diagnostic Features:
Undivided anal plate.
Smooth dorsal scales in 19 rows at midbody.
Coloration:
Grey or white background color with 17-24 deep red blotches, with each blotch bordered by black pigment along the spine.

The ventral surface is white and unmarked.
Size:
Northern scarletsnakes (Cemophora coccinea copei) are usually 35-51 cm (14-20 in) in length, with Texas scarletsnakes (C. c. lineri) reaching up to 66 cm (26 in).
General Distribution:
Scarletsnakes are found from New Jersey, along the Atlantic Coast to Florida, and west to Texas and Oklahoma
Behavior:
Scarlet snakes can be constrictors, taking small lizards and snakes at times, preferring instead to feed on reptile eggs. They can feed on such eggs by swallowing them whole or by cracking the shell with specialized teeth in the back of their jaw.
Reproduction:
Clutches of eggs, ranging in size from 3-8, are laid in mid-summer and newly hatched young measuring 12-15 cm (5-6 in) in length.
Habitat:
Northern scarletsnakes prefer soft, sandy or loamy soils for burrowing, occurring in forested areas as well as open areas such as agricultural fields and along borders of swamps and stream banks. Texas scarletsnakes are rarely encountered animals, found mainly in sandy thickets along the Gulf Coast. Occassionaly scarletsnakes are dug up from as deep as 2 meters (6 ft) during the construction of foundations or ditches for pipelines.
Conservation Status:
Both subspecies of Cemophora coccinea are listed as threatened by the Texas Parks and Wildlife Department and are protected in the state of Texas.
Texas Distribution:
In Texas, Cemophora c. copei is found along the east Texas border and C. c. lineri is found along the southern Gulf Coast from Matagora County to Kennedy County and inland to Jim Hogg and Brooks Counties.
Distribution Map: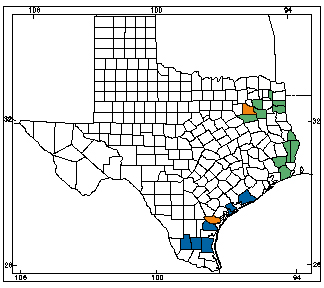 Orange counties indicate new county records since previous Herps of Texas update in 1998; all other colored counties reflect known distribution prior to 1998 for species and/or subspecies. Map is based on museum voucher specimens.