Scientific Name:
Eurycea nana
Diagnostic Features:
Slender body and limbs with a finned tail.

Small eyes with dark rings around them.

Light-colored external gills.

Four toes on front feet, five on hind feet.

Sixteen or seventeen costal grooves.
Coloration:
Light brown with small yellow spots arranged in a row down each side of the back.

Pale yellow, translucent ventral surface.
Size:
Eurycea nana reach an adult size of 3-5 cm (1.5-2 in) total length.
General Distribution:
Eurycea nana is only found in Texas.
Behavior:
Little is known. Individuals live in mats of blue-green alga that covers the stream bed and beneath rocks and gravel.
Habitat:
Strictly aquatic, Eurycea nana may be seen among algae in the spring-fed pool at head of the San Marcos River.
Conservation Status:
The San Marcos salamander is considered a threatened species by the Texas Parks and Wildlife Department and is fully protected by the state. Additional protection has been afforded to this species as the U.S. Fish and Wildlife Service considers the San Marcos salamander to be a federally threatened species.
Texas Distribution:
In Texas, Eurycea nana is restricted to Hays County.
Distribution Map: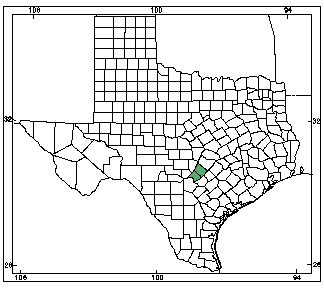 Orange counties indicate new county records since previous Herps of Texas update in 1998; all other colored counties reflect known distribution prior to 1998 for species and/or subspecies. Map is based on museum voucher specimens.