Scientific Name:
Eurycea chisholmensis
Diagnostic Features:
Flat head is long, with blunt and rounded snout.

Eyes reduced.

Reddish-brown external gills.

Well-developed tail fins.

Four toes on front feet, five on hind feet.

Fifteen or sixteen costal grooves.
Coloration:
Grayish-brown dorsal ground color with slight cinnamon tinge; a few light flecks may be present across dorsal surface.

Dorsal pigmentation appears as series of fine reticulations under microscope.

Sides of body and limbs cream-colored, with sides finely speckled and limbs densely speckled brown.

Head and face cream-colored with scattered flecks.

Gold stripe prominent on dorsal part of tail.

Sides of tail speckled with yellow; ventral tail surface with pale yellow line.

Ventral surface immaculate (and transparent).
Size:
Maximum adult size in Eurycea chisholmensis is around 6 cm (2.25 in) total length.
General Distribution:
The entire distribution of Eurycea chisholmensis is restricted to two springs near Salado (Bell Co.), Texas.
Habitat:
Strictly aquatic, Eurycea chisholmensis is found only in two springs in Bell County.
Conservation Status:
The Salado Salamander is listed as a federally threatened species by the U.S. Fish and Wildlife Service and can not be collected without a federally issued permit.
Texas Distribution:
Eurycea chisholmensis is known from Big Boiling and Robertson Springs at Salado, Bell County, Texas.
Distribution Map: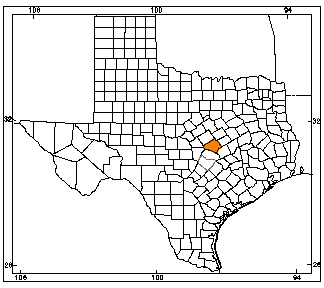 Orange counties indicate new county records since previous Herps of Texas update in 1998; all other colored counties reflect known distribution prior to 1998 for species and/or subspecies. Map is based on museum voucher specimens.