Scientific Name:
Phrynosoma modestum
Diagnostic Features:
Flat, broad lizard with short tail that tapers quickly to a round end.

Crown of four short spines on the back of the head.

No external ear openings.

No spiny scales on sides of body.
Coloration:
Dorsal ground color varies with environment from light gray to light brown to a pale yellow to reddish brown.

Dorsal pattern consists of pairs dark spots on neck, groin, and base of tail.

Pale gray venter.
Size:
Phrynosoma modestum reaches an adult length of 7.5-10 cm (3-4 in).
General Distribution:
In North America, the range of Phrynosoma modestum extends from west Texas to eastern Arizona and into northern Mexico.
Behavior:
This diurnal lizard will flatten its body and remain motionless when threatened. This horned lizard is well camouflaged among the rocks and loose soil where it feeds on ants and beetles. These lizards hibernates during the winter months.
Reproduction:
Egg clutches (up to 9 eggs) are laid in early summer.
Habitat:
Phrynosoma modestum prefers arid or semi-arid environments with sparse vegetation and rocky/gravelly soil.
Conservation Status:
The round-tailed horned lizard is not a protected species in Texas and can be legally collected with a hunting license.
Texas Distribution:
In Texas, Phrynosoma modestum is found in west Texas and the Panhandle.
Distribution Map: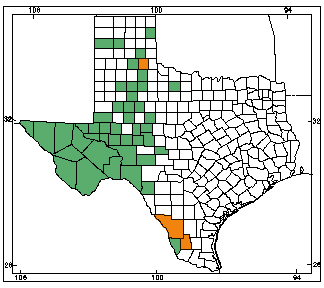 Orange counties indicate new county records since previous Herps of Texas update in 1998; all other colored counties reflect known distribution prior to 1998 for species and/or subspecies. Map is based on museum voucher specimens.