Scientific Name:
Cyrtopodion scabrum
Diagnostic Features:
Slightly elongated snout.

Long toes.

Slightly flattened tail.
Coloration:
Beige dorsal surface with brown spots.

White ventral surface.

Tail with dark brown bands.
Size:
Cyrtopodion scabrum reaches adult lengths of ~11.5 cm (4.5 in).
General Distribution:
In North America, Cyrtopodion scabrum is found only in the Galveston area, where it was presumably introduced by boats originating in northern Africa or the Middle East.
Behavior:
This nocturnal gecko seems to have similar habits to Hemidactylus turcicus (e.g., living on building, eating insects), but little else is known.
Habitat:
A native of Egypt, Sudan and India, this introduced species of gecko now makes its home in urban areas, in and on buildings.
Conservation Status:
The rough-tailed gecko is not a protected species in Texas and can be legally collected with a hunting license.
Texas Distribution:
In Texas, Cyrtopodion scabrum is restricted to Galveston Island.
Distribution Map: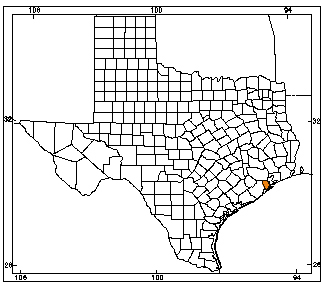 Orange counties indicate new county records since previous Herps of Texas update in 1998; all other colored counties reflect known distribution prior to 1998 for species and/or subspecies. Map is based on museum voucher specimens.