Scientific Name:
Opheodrys aestivus
Diagnostic Features:
Divided anal plate.
Keeled scales in 17 rows at midbody.
Coloration:
Bright green dorsal coloration is in contrast to a white chin and pale green, yellow, or cream colored belly.

Labial scales are often tinged with yellow and the eye may also be ringed with the same color.
Size:
Opheodrys aestivus is the largest of the two green snakes found in Texas, with adults measuring 56-81 cm (22-32 in),
General Distribution:
Opheodrys aestivus is a common snake found throughout the southeastern U.S., from Virginia along the Atlantic Coast, to Florida and west throughout much of Texas. Populations are also found in Mexico, along the Gulf of Mexico.
Behavior:
Opheodrys aestivus is often found in trees and bushes hiding from predators or foraging for food, which consists of crickets, grasshoppers, and spiders, in addition to the larvae of moths and butterflies. The rough greensnake is also found along water courses, and will readily enter the water to escape a predator or to chase down prey items. At times, O. aestivus may be found dead on roads and its green coloration is lost, assuming a blue tint in death.
Reproduction:
Females lay clutches of eggs in the second half of summer and young emerge from their eggs in August or September measuring 19-21 cm (7.5-8 in) in length.
Habitat:
Opheodrys aestivus is found in a variety of habitats throughout Texas, including thornscrub thickets, rocky wooded hillsides, as well as swamps and occassional open savannahs. The common factor found in these habitats is vegatation, with the more vegetation present, the less likely the non-venomous rough greensnake is to be spotted.
Conservation Status:
The rough greensnake is not a protected species in Texas and can be legally collected with a hunting license.
Texas Distribution:
In Texas, the rough greensnake is can be found in the eastern two-thirds of the state, not being present in the Panhandle and western Trans-Pecos regions
Distribution Map: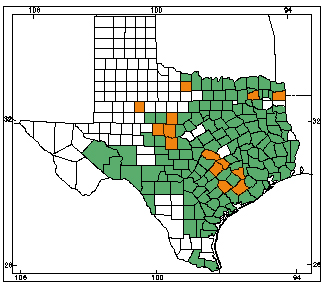 Orange counties indicate new county records since previous Herps of Texas update in 1998; all other colored counties reflect known distribution prior to 1998 for species and/or subspecies. Map is based on museum voucher specimens.