Scientific Name:
Kinosternon hirtipes
Diagnostic Features:
Carapace oval with a well-defined medial keel (two weakly defined lateral keels) and no posterior serration.

First vertebral in contact with 2nd marginal.

Tenth marginal scute is elevated above 9th marginal.

Plastron short and narrow with 11 scutes and two well-developed hinges.

Triangular-shaped pectoral scutes.

Three barbels on chin.

Webbed feet.
Coloration:
Carapace olive-brown with dark seams around scutes.

Plastron brown or tan with dark seams around margins of scutes.

Skin is tan to black on head and neck, tan to brown on limbs.

Reticulate pattern present on head.
Size:
Kinosternon hirtipes grows to an adult length of 18.5 cm (7.5 in).
General Distribution:
In the United States, the distribution of Kinosternon hirtipes is restricted to a single county in Texas. Additional populations are present in adjacent Coahuila and south and east on the Mexican Plateau.
Behavior:
Not much is known about the natural history of this highly aquatic turtle species in Texas. Mexican populations of the rough-footed mud turtle are carnivorous, eating crustaceans, snails, aquatic insects, worms, fish, and amphibians. Some researchers believe this species to be a nocturnal feeder, whereas others find this to be diurnal species.
Reproduction:
Nesting season in Mexico varies from May to September. Females lay two clutches of eggs, ranging in size from 1-7 eggs. Incubation at 29 degrees C (84.2 degrees F) is 196-201 days.
Habitat:
In Texas, this species is only found in spring-fed cattle tanks; in Mexico, rough-footed mud turtles are found in permanent water (rivers, streams, ponds) in mesquite grasslands.
Conservation Status:
The rough-footed mud turtle is listed as threatened by the Texas Parks and Wildlife Department and is protected in the state of Texas.
Texas Distribution:
In Texas, the only subspecies of Kinosternon hirtipes found in Texas, K. h. murrayi is only present in southern Presidio County.
Distribution Map: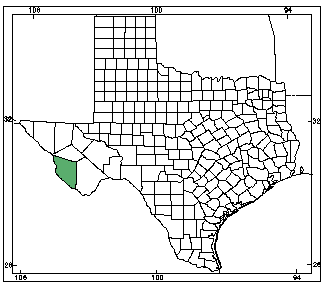 Orange counties indicate new county records since previous Herps of Texas update in 1998; all other colored counties reflect known distribution prior to 1998 for species and/or subspecies. Map is based on museum voucher specimens.