Scientific Name:
Virginia striatula
Diagnostic Features:
Cone-shaped head and pointed snout.

Internasal scales, generally paired in other snakes, are instead fused into a single scale.

Five supralabials; two small preoculars; divided anal plate; keeled dorsal scales (arranged in 17 rows near midbody).
Coloration:
Adults typically have a whitish ventral surface with a grey or brown dorsal surface.

Dorsal color may be darker around the labial scales, as well as around the eye.
Size:
Virginia striatula only reaches a length of 17.5-27.5 cm (7-11 in).
General Distribution:
Virginia striatula is found from central Texas eastward to the Carolinas and Virginia. They are absent from the dampest portions surrounding the Mississippi River, and range as far north as Missouri, as far south as Florida.
Behavior:
A frequently seen snake, especially after rains, Virginia striatula poses no threat to humans and is non-venomous. Preferring soft bodied prey (earthworms are the only prey known to be consumed) these snakes often seek refuge in the same places as their prey: under logs, stones, and various piles of debris. Its pointed head comes in handy and works as a spade for the snake as it searches in soft soils for earthworms.
Reproduction:
Virginia striatula is a live bearing snake, having as many as 7 young in the late summer 7.5-12.5 cm (3-5 in). These young somewhat resemble ringneck snakes with their light colored neck collar, but this trait is lost as they become adults.
Habitat:
The rough earthsnake is a small earthworm-eating snake found in many backyards and open lots of eastern Texas, often found when overturning logs and stones.
Conservation Status:
The rough earthsnake is not a protected species in Texas and can be legally collected with a hunting license.
Texas Distribution:
In Texas, Virginia striatula is commonly found in the eastern third of the state.
Distribution Map: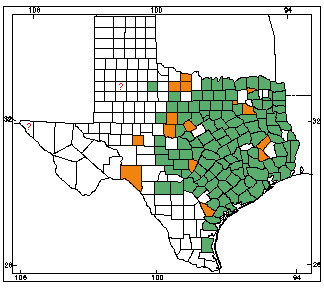 Orange counties indicate new county records since previous Herps of Texas update in 1998; all other colored counties reflect known distribution prior to 1998 for species and/or subspecies. Map is based on museum voucher specimens.