Scientific Name:
Sceloporus variabilis
Diagnostic Features:
Small pocket of skin on each side of the base of its long tail.
Coloration:
Dorsal ground color brown.

Dorsal pattern consists of light dorsolateral lines from each eye onto tail and brown spots in a row on each side of a middorsal line.

Dark crossbars on limbs.

Males with two pink belly patches partly rimmed in dark blue which extends onto sides of body to form dark spots in armpit and in groin.

Males lighter in color; females are more green.
Size:
Sceloporus variabilis can grow to lengths of 9-13.75 cm (3.75-5.5 in), including tail.
General Distribution:
In North America, Sceloporus variabilis is found from south Texas to northeastern Mexico.
Behavior:
This species of diurnal lizard is primarily terrestrial. Sceloporus variabilis forages for large insects among the leaf litter.
Reproduction:
Breeding occurs throughout the year. Egg clutches (1 to 5 eggs per clutch) are laid near the base of a tree in loose soil.
Habitat:
Sceloporus variabilis prefers rocky terrains in arid and semi-arid environments and can commonly br seen on fence posts and among cactus clumps.
Conservation Status:
The rose-bellied lizard is not a protected species in Texas and can be legally collected with a hunting license.
Texas Distribution:
The single subspecies of Sceloporus variabilis found in Texas, S. v. marmoratus, is found in south and south-central Texas.
Distribution Map: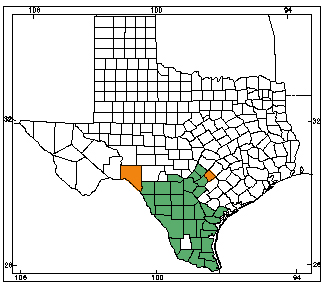 Orange counties indicate new county records since previous Herps of Texas update in 1998; all other colored counties reflect known distribution prior to 1998 for species and/or subspecies. Map is based on museum voucher specimens.