Scientific Name:
Crotalus lepidus
Diagnostic Features:
Undivided anal scale.
Dorsal scales extremely keeled, often in rows of 23 near midbody.
Coloration:
Typically grey in overall coloration, although certain populations may blend into their surrounding rocky habitat with dorsal colors of pink, brown and tan.

Series of crossbands run the length of the animal.

Pink or grey belly may or may not be pigmented.
Size:
Adults are rarely larger than 61 cm (24 in); record length is 76 cm (30 in).
General Distribution:
In the United States, Crotalus lepidus is found only in the rocky mountains and hills of southern Arizona, New Mexico, and Texas. The distributional range of C. lepidus includes two additional subspecies in Mexico, extending well into the interior of the country as far south as the mountains of Zacatecas.
Behavior:
Rattlesnakes are not generally aggressive and will leave the area if given a chance to retreat; but are all rattlesnakes are venomous and should be left alone. Primarily a nocturnal predator during the hot summer months, C. lepidus feeds on lizards and mice which live in cracks and crevices of the rocky hillsides. The heat-sensing pits are very useful when hunting a mouse through an underground tunnel system. In the spring and fall, the rock rattlesnake can be diurnal, moving between shelters and basking in the sunshine of the cooler mornings. During the winter, the rattlesnakes seek retreats deep in the crevices, away from the dangerously low outside temperatures.
Reproduction:
Rock rattlesnakes mate during the summer months, and actually overwinter while pregnant, giving live birth to litters of 2-8 young a year after mating. The young measure less than 20 cm in length at birth.
Habitat:
The small rock rattlesnake well deserves its common name as it spends its life in and around rocky outcrops and crevices found in the Trans-Pecos region of Texas.
Conservation Status:
The rock rattlesnake is not a protected species in Texas and can be legally collected with a hunting license.
Texas Distribution:
In Texas, Crotalus lepidus is found from El Paso County in the west, throughout Big Bend and much of the Trans-Pecos, to the eastern edges of the Hill Country in Bandera County.
Distribution Map: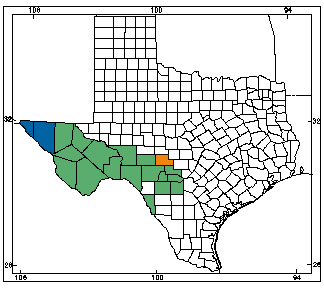 Orange counties indicate new county records since previous Herps of Texas update in 1998; all other colored counties reflect known distribution prior to 1998 for species and/or subspecies. Map is based on museum voucher specimens.