Scientific Name:
Pseudemys concinna
Diagnostic Features:
Narrow, flattened carapace slightly serrated posteriorly; shell often indented at the bridge.

Unhinged plastron.

Shallow medial notch on upper jaw not bordered by tooth-like cusps.

Webbed feet.

Males with longer fingernails on forelimbs than females.
Coloration:
Carapace olive; older turtles can be melanistic, obscuring any pattern on the carapace.

Backward facing, light-colored "C" found along dorsal rear margin of 2nd costal scute may be present; many light-colored concentric whorls in 2nd costal scute.

Many dark markings on marginals.

Plastron orange or yellow with pigment along seams, with "X" pattern often present anteriorly.

Skin olive or brown with wide yellow stripes on underside of neck.

Central chin stripe extends and forks posteriorly (to Y-shape).
Size:
Adult Pseudemys concinna range from 23-33 cm (9-13 in) in total length. Large females can reach lengths over 43 cm (17 in).
General Distribution:
In North America, Pseudemys concinna is found cross much of the southeastern United States, from Texas, Oklahoma and Nebraska eastward to the Carolinas and the Atlantic Coast.
Behavior:
The river cooter is a diurnal turtle, basking during the day whenever it is not feeding on aquatic vegetation. Cooters are also well known as scavengers, feeding on opportunistically found carrion. Primarily herbivorous, some cooters also feed on insects and mollusks. This is a shy species of turtle, leaving the water rarely (only to bask and nest).
Reproduction:
Mating occurs in the spring with nesting taking place between May and July. An average of 19-20 eggs are laid in each nest; some females lay two clutches per year. Incubation is between 80-100 days (longer with cooler soil temperatures).
Habitat:
The river cooter is at home in rocky-bottomed rivers and streams, but can also be found in slow moving oxbows as well as swamps and lakes. Occasionally, this species is found in brackish water near the coast.
Conservation Status:
The river cooter is not a protected species in Texas and can be legally collected with a hunting license.
Texas Distribution:
The single subspecies of Pseudemys concinna found in Texas, P. c. metteri is present across the northeastern corner of the state as well as isolated populations in the Panhandle.
Distribution Map: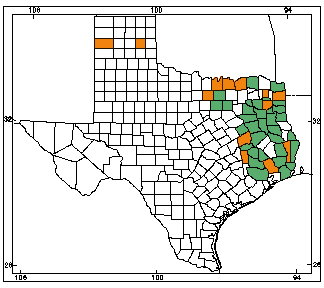 Orange counties indicate new county records since previous Herps of Texas update in 1998; all other colored counties reflect known distribution prior to 1998 for species and/or subspecies. Map is based on museum voucher specimens.